The Abess Center welcomes new Director of Environmental Media, Meryl Shriver-Rice!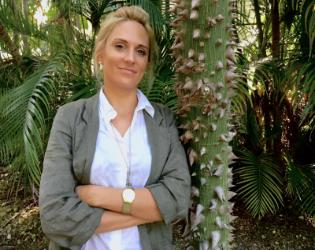 Dr. Meryl Shriver-Rice is the Director of Environmental Media at the Leonard and Jayne Abess Center for Ecosystem Science and Policy. As both a media scholar and paleoethnobotanist, her interdisciplinary background includes dual degrees in Anthropology and Biology, a Master's degree in Archaeology from the University of Nottingham, England, and a Ph.D. in Communication from the University of Miami (film, visual culture, and interactive media track). Her diverse science background also includes experience in tropical botany, Antarctic paleontology, and work on the Human Genome Project. Dr. Shriver-Rice has taught courses on visual anthropology, cultural theory, science communication, the psychology of group behaviour, gender and pop culture, media ethics, film studies, and bioarchaeology. Her prior media research has looked at ethical issues through an anthropological lens to examine and contextualize how knowledge and culture are created, transmitted, and maintained through visual culture. She is the author of Inclusion in New Danish Cinema: Sexuality and Transnational Belonging (Intellect Press, 2015), co-editor of The Intimate and Traumatic Work of Susanne Bier (forthcoming with Mimi Nielsen & Missy Molly, Edinburgh University Press, 2017), and co-author of Screen Life & Identity: An Introduction to Media Studies (forthcoming with Hunter Vaughan, Cognella Press, 2017). Her current media studies research focuses on digital culture and the role of visual artifacts in shaping societal values and perceptions of the environment. In combining media and science research, her aim is to advance societal engagement with environmental studies through new visual forms of scientific communication. Her current book project, Branded Science, examines the relationship between corporate sponsorship and science innovation and visibility in new media and popular science.

 Dr. Shriver-Rice has experience as a rescue archaeologist excavating at sites where urban development threatens archaeological remains. She is the co-founder and director of Atlantic Archaeology Vanguard, the first all-women-run rescue archaeology coalition in South Florida. She has done rescue work in downtown Miami at the 2,000-year-old Tequesta Village/Fort Dallas/Royal Palm Hotel site at the mouth of the Miami River, as well as in California, Missouri, and Illinois. She has also excavated overseas with international teams in the Czech Republic, Scotland, England, Italy, and Turkey; including the UNESCO World heritage site Çatalhöyük and the National Geographic site Sant'Omobono. The launch of her current research project The First Millennium BCE Project: Food and Environment in Pre-Roman Central Italy was recently supported by a fellowship at the American Academy in Rome (2016). This study investigates the archaeobotanical and zooarchaeological evidence for paleoecology, prehistoric agriculture, food, feasting, and trade in exotic consumables amongst the pre-Roman city-states of modern day Tuscany. The two aims of this project include: making information about organic material readily accessible through an open source database and highlighting ancient land use strategies in order to place them within our modern dialogue and knowledge of sustainability. Overall, this project explores how ancient peoples' daily lives were shaped by a complex intertwining with the natural world, from the practical daylong threshing of grains and processing of grapes for wine, to the cosmic divination of lightning storms and sheep's entrails—a narrative that prefaces the paradoxes of our own contemporary relationship to the environment.
---
Upcoming Ph.D. defense ~ Caitlin Augustin ~ 8/26 at 9 a.m. ~ Open to the public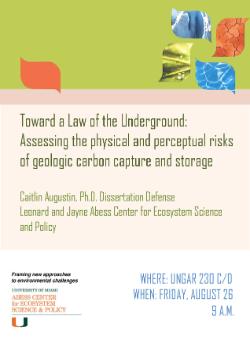 ---
T‌‌hree upcoming ECS Ph.D. defenses ~ All open to the public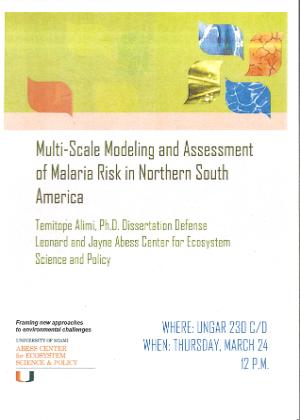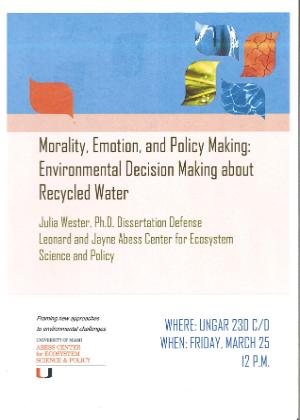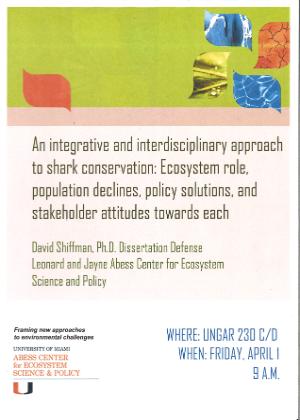 ---
ECS Ph.D. student David Shiffman is lead author on an article published in Conservation Biology on shark conservation policy