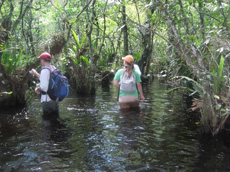 The Leonard and Jayne Abess Center for Ecosystem Science and Policy is the nexus for a flexible undergraduate program, and, as of fall 2010, graduate program, that allows students to dynamically explore both environmental science and policy. The program presents topics in the context of problem-oriented learning, and gives students the opportunity for substantial field experience.
The University of Miami created the interdisciplinary Abess Center to achieve two central goals:
Educate the next generation of environmental scientists, policy makers, managers, and planners with a grounding in the fundamentals of the natural sciences, social science, and public policy.
Bring faculty from various schools and departments in the University together with external scientists, policy makers, and planners to facilitate research concerning environmental problems involving both science and policy dimensions.
Philosophy
In the 21st century, we need to find ways to meet human demands for resources, energy, development, and health while simultaneously protecting and restoring the natural environment that sustains us. As science increasingly demonstrates the complex interconnectedness of all natural systems, environmental decision makers must anticipate ecosystem-wide impacts to be truly effective. Yet they must also operate in the face of data gaps and uncertainty about causal linkages in natural systems, and with knowledge that some natural processes are random (stochastic). As technologies are refined and understanding of ecosystems becomes more complete, policy must also be flexible enough to accommodate revisions. It is thus essential that environmental scientists and nonscientist policy-makers, managers, and planners communicate with each other in new and better ways to make the best decisions possible about development, conservation, and resource use.
The goal of the undergraduate program in Ecosystem Science and Policy (ECS) is to educate the next generation of environmental leaders. The ECS program provides students with a broad background in environmental issues from a variety of perspectives, along with in-depth education in an area of specialization. This preparation gives students both the theoretical background and technical skills to pursue environmental careers, whether as teachers and researchers, as policymakers at the local, state, national or international level, as analysts in government or industry, as journalists or communications specialists, or as environmental.
The Abess Center's Ph.D. in Environmental Science and Policy program took in its inaugural class in Fall 2010 and is dedicated to training top-flight future researchers and policymakers with an interdisciplinary approach to regional, national, and transnational environmental issues. Please see Graduate Program link for more information.
‌Contact Information
University of Miami
Leonard and Jayne Abess Center for Ecosystem Science and Policy
P.O. Box 248203
Coral Gables, Florida 33124