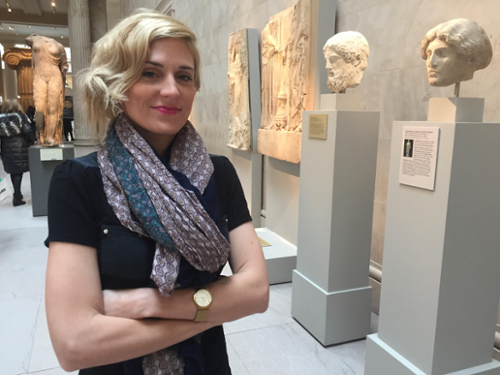 Director of the Environment, Culture & Media MPS/MA 
Abess Center for Ecosystem Science, & Policy
Director of Environmental Media Lab: 
Director of Sci Comm Incubator:
https://enviromedialab.com/sci-comm-incubator
Email: shriverrice@miami.edu
Dr. Shriver-Rice is a digital anthropologist and environmental archaeologist. She serves on the board of the Independent Research Fund Denmark for 'Green Research', and is a member of the Alliance for Diversity and Inclusion in Ethnobiology (ADIE) and the Coastal Heritage At Risk Task Force (CHART) composed of state and county archaeologists, the National Park Service, The Tribal Historic Preservation Office, and academic archaeologists who are addressing the challenge of salvaging, preserving, and conserving thousands of sites at risk from sea-level rise along Florida's vast coastline. She has previously taught at MCNY in New York City and John Cabot University in Rome, Italy. She also teaches a UM study abroad summer program in Science, Media & Storytelling in Switzerland (Franklin University). Dr. Shriver-Rice is the founding editor (with CU Boulder's Environmental-media-scholar-in-residence Hunter Vaughan) of the Journal of Environmental Media and co-director of the Environmental Media Lab. 
Research Interests: Digital anthropology, Ethnobiology, Archaeobotany, Indigenous studies, Traditional Ecological Knowledge (TEK), Community-Based Participatory Research (CBPR), Non-traditional forms of environmental media advocacy, Environmental archaeology, Digital wokewashing, Digital decolonizing practices by museums and heritage sites, Digital Ethics, Data Sovereignty, "Digital reparation," Science Communication, Applied ethics in interdisciplinary environmental social science methods, Role of environmental archaeology in contemporary conservation
Education:
BA Biology and Anthropology American University of Paris, University of Miami
MA Mediterranean Archaeology (Archaeobotany track dir. by Amy Bogaard) University of Nottingham, UK
PhD Communication University of Miami
Courses taught:
ECCS 790 Justice, Equity, Diversity, and Inclusion (JEDI) in Archaeological Theory
ECS 790 Directed Readings in Environmental Archaeology
ECS 601 Environmental Research Methods
ECS 603 Environmental Interdisciplinary Methods
ECS 609 Contemporary Representations of the Environment
ECS 610 Technology and Human Behavior
ECS 611 Nature, the Anthropocene, and Visual Anthropology
ECS 612 Environmental Communication, New Media & Policy
ECS 790 Directed Readings in Anthropology and Media
ECS 790 Directed Readings in Focus Group Methods
Recent Publications and works in progress:
 2023. Digital Ethics: Digitizing the Dead, Designing Augmented and Virtual Realities, and Decolonizing the Museum (with Sarah Hiepler) John Wiley & Sons
2023. 'Invasive Maraca in Coto Brus, Costa Rica: Why Ethnographic and Social Science Methods are Critical for Understanding Human-Plant Entanglements in Invasion Biology' Journal of Ethnobiology (with Christine Pardo and Jesse Schneider)
2022. 'Charismatic megafauuna, regional identity, and invasive species: What role does environmental archaeology playy in contemporary conservation efforts?' World Archaeology (with Jesse Schneider and Christine Pardo)
2022. 'Holograms and Heritage: Digital Practices in Etruscan Archaeology,'(with Alessandro Nocentini)
2021. Stories of Scandinavian Guilt and Privilege in A History of Danish Cinema. Edited by C. Claire Thomson, Isak Thorsen and Pei-Sze Chow. Edinburgh University Press https://www.amazon.co.uk/History-Danish-Cinema-Claire-Thomson/dp/1474461123 
2021. 'Environmental Approaches to Etruscan Studies: Re-Visiting Negri 1927 Almost One Hundred Years Later' (with Simon Stoddart, Anna Maria Mercuri, Assunta Florenzano, Angela Trentacoste) 2021 in Etruscan Archaeology: Technologies and Methods edited by Maurizio Forté. Oxford University Press. 
2021. 'Young Adults' Reactions and Engagement with Short-Form Videos on Sea Level Rise.' Shriver-Rice, M.; Hernandez, J.; Riopelle, C.; Vaughan, H.; Johns, L. under review Environmental Communication
2021. 'JORDNÆR CREATIVE: A Danish case study of green filmmaking and sustainable production,' (with Anne Ahn Lund, Josefine Madsen) In Media and the Public Good edited Mette Hjort and Ted Nannicelli New York: Wiley Blackwell, forthcoming 2021).
2020. 'Digital Heritage and the Anthropocene: Media Use in Site-Specific Archaeological Installations in Lazio, Italy' (with Hunter Vaughan) Italianist Studies: Special Issue on Ecomedia. Volume 40:2. https://www.tandfonline.com/loi/yita20
2019. 'What is environmental media?' (with Hunter Vaughan) Journal of Environmental Media Vol. 1.1 Intellect Press. https://www.intellectbooks.com/journal-of-environmental-media
2019. 'Introducing Relational Values as a Tool for Shark Conservation, Science, and Management.' Skubel, Rachel.; Shriver-Rice, Meryl.; and Maranto, Gina. Frontiers in Marine Science. Volume 6 https://www.frontiersin.org/articles/10.3389/fmars.2019.00053/full 
Archaeology:
Dr. Shriver-Rice has excavated overseas with international teams in the Czech Republic, Scotland, England, Italy, and Turkey; including the UNESCO World heritage site Çatalhöyük and the National Geographic site Sant'Omobono in Rome. She is the co-director (with Gregory Warden) of the Potentinto Exploration Project (PXP), an innovative interdisciplinary field school that combines ethnobiology, biodiversity studies, and archaeological excavation. She was  the director of the environmental team at Poggio Civitate Archaeological Project from 2017-2019. Her research on environmental methods in Etruscan archaeology was supported by a fellowship at the American Academy in Rome (2016). She is interested in evidence for environmental reconstruction, prehistoric agriculture, food gathering, plant based ritual amongst the pre-Roman city-states of modern day Tuscany to explore how ancient peoples' daily lives were shaped by a complex intertwining with the natural world, from the practical daylong threshing of grains and processing of grapes for wine, to the cosmic divination of lightning storms and sheep's entrails—a narrative that prefaces the paradoxes of our own contemporary relationship to the environment.
She also has 15 years of experience as a rescue archaeologist in Cultural Resource Management excavating at sites where urban development threatens archaeological remains. Her excavation work has included the 2,000 year-old "Birth of Miami" site in downtown Miami, on Brickell Avenue, as well as surveys in California, Missouri, and Illinois. She serves on the Miami-Dade Vulnerability Assessment Working Group that is charged with ranking archaeological sites by risk of climate impacts.
PhD student advising:
2016- present Lisa Johns, Abess PhD Candidate (advisor), Content, Culture, and Context: An Examination of Short-form Environmental Media  (completed in Spring 2021)
2017 -present Shireen Rahimi, Abess PhD (committee), An Evaluation of Ecological Impacts, Local Perspectives, Visual Landscapes Surrounding the Lionfish Invasion in Abaco, Bahamas  (completed summer 2020) Website: https://www.shireenrahimi.com
2017-present Rachel Skubel, Abess PhD Candidate (committee), Vulnerability of the South Florida Commercial Shark Fishery to Environmental Change: Social and Ecological Dimensions of Risk  (scheduled to complete in Spring 2021)  Website: https://sharkresearch.rsmas.miami.edu/meet-our-team-rachel-skubel/   Twitter: @rachelskubel (Completed Spring 2021)
2017-present Christine Pardo, Biology and Abess PhD student (committee), Plant Invasions in Tropical Forests: A Case Study of Zingiber spectabile in Southern Costa Rica (scheduled to complete in 2021) Website: https://christinejpardo.wordpress.com/author/cjpardo27/ Twitter: @ecoxtine 
2018-present Mariam Abazeri, Abess PhD student (advisor), Participatory Action Research Through Collaborative Media in Drought Adaptation (scheduled to complete in 2022) Website for film project:http://acf.biff.kr/eng/html/projects/documentary_view.asp?section=AND&column=&searchString=&this_year=2018&gotoPage=1&idx=369 
2018-present Dishane Hewavithana, Biology and Abess PhD student, (committee) Planning for the future: Ecological impacts of Sri Lanka's growing linear infrastructure network
2020-present Marcus Reamer, Tourism of Marine Mammals in Florida Abess PhD student (advisor) 
2019-present Sam Johnson, Indigenous Digital Media and Environment MLL PhD Student (committee)
Master's student advising:
2017-2018 Savannah Geary, Master's of Arts Environment, Culture & Media (advisor), The Plastic Crisis Goes Public: Environmental Communication, Media Representation, and Public Perception of Plastic Pollution   Twitter: @savroge 
2018-2019 Mollie Beek Master's of Arts Environment, Culture, & Media (advisor), Environment and Identity: An Environmental History of Coconut Grove
2018-2019 Dana Biddle Master's of Professional Science Environment, Culture, & Media (advisor), Development of a Media Circulation Plan & Creation of Environmental Short Films for Sereia Films https://sereiafilms.org
2018-2019 Sophie Cayuso Master's of Arts Environment, Culture, & Media (advisor) A study of environmental conservation through ecotourism in a case study of the Las Terrazas resort in Pinar del Rio, Cuba
2018-2019 Madison Alvarez Master's in Professional Science Environment, Culture, & Media (advisor) Creating New Insights and Story Angles For the General Public Regarding the Dumping of Toxic Waste at the San Onofre State Beach Park https://publicwatchdogs.org
2018-2019 Adam Roberti Master's in Professional Science Environment, Culture, & Media (advisor) Management of Xavier Cortada's Participatory Art Projects in Miami-Dade County https://cortadaprojects.org
2018-2019 Natalia Horvath Master's in Professional Science (advisor) Production of Environmental Messaging Materials for Bullsugar.org and Friends of the Everglades https://www.bullsugar.org/#
2018 Eryn Campbell, Master's Professional Science in Climate & Society (committee), Development of Climate Change Communication Materials for the National Capital Region of the National Park Service  Eryn is now a PhD student (2019) at George Mason University's Center for Climate Change Communication.
Societies and Memberships:
American Anthropological Association
Archaeological Institute of America
Anthropology & Environment Society
Society for Ethnobiology
Digital Anthropology Interest Group (DAIG)
Society for Visual Anthropology
International Environmental Communication Association
Society for Cinema & Media Studies, Media & Environment Scholarly Interest Group (Chair)
Women in Aviation
FAA Drone Pilot