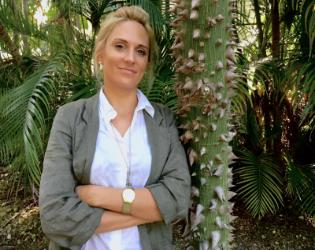 Director of the Environment, Culture & Media MPS/MA 
Director of Environmental Media, Abess Center for Ecosystem Science & Policy
Email: shriverrice@miami.edu
Dr. Shriver-Rice developed and directs the Master's program in Environment, Culture, & Media. She currently teaches graduate courses in technology & human behavior, visual anthropology, and environmental communication for the ECM Program. As both a media scholar and paleoethnobotanist, Dr. Shriver-Rice's interdisciplinary background includes dual degrees in Anthropology and Biology, a Master's degree in Archaeology from the University of Nottingham, England, and a Ph.D in Communication from the University of Miami. Dr. Shriver-Rice has previously taught courses in cultural theory, race, class, & gender studies, intercultural communication, the psychology of group behavior, and media studies in New York City (MCNY, SoHo) and Rome, Italy (John Cabot University). She also teaches a UM study abroad summer program in Science, Media & Storytelling in Switzerland. 
Media studies:
Her prior media research has looked at ethical issues through an anthropological lens to examine and contextualize how knowledge and value systems are created, transmitted, and maintained through visual culture. She is the author of Inclusion in New Danish Cinema: Sexuality and Transnational Belonging (Intellect Press, 2015), co-editor of ReFocus: The Work of Susanne Bier (with Mimi Nielsen & Missy Molly, Edinburgh University Press, 2018), and co-author of Screen Life & Identity: A Guide to Media Studies (forthcoming with Hunter Vaughan, Cognella Press, 2019). She is the founding editor (with Hunter Vaughan) of the Journal of Environmental Media(Intellect Press, launching Fall 2019). Her current media studies research focuses on digital culture and the role of visual artifacts in shaping societal values and perceptions of the environment. Dr. Shriver-Rice was a speaker at Georgia Tech's "Visualizing Climate Change Workshop" in 2017 and the "Empirical Ecocriticism Workshop" at the Rachel Carson Center for Environment & Society in Munich, Germany in 2018. She is the 2018 recipient (with Juliana Fernandez and Cameron Riopelle) of a pilot study grant from the Center for Communication, Culture, and Change for the project: An Audience Study of Formal Variables in Digital Short-Form Environmental Media.  
Archaeology:
Dr. Shriver-Rice has experience as a rescue archaeologist in cultural resource management excavating at sites where urban development threatens archaeological remains. She is a member of the Coastal Heritage At Risk Task Force (CHART) composed of state and county archaeologists, the National Park Service, The Tribal Historic Preservation Office, and academic archaeologists who are addressing the challenge of salvaging, preserving, and conserving thousands of sites at risk from sea-level rise along Florida's vast coastline. Her excavation work has included downtown Miami at the 2,000 year old "Birth of Miami" site, Brickell Ave., as well as in California, Missouri, and Illinois. She has also excavated overseas with international teams in the Czech Republic, Scotland, England, Italy, and Turkey; including the UNESCO World heritage site Çatalhöyük and the National Geographic site Sant'Omobono in Rome. She has been the director of the environmental team at Poggio Civitate Archaeological Project since 2017. The launch of her current research project The First Millennium BCE Project: Food and Environment in Pre-Roman Central Italy was recently supported by a fellowship at the American Academy in Rome (2016). This study investigates evidence for environmental reconstruction, prehistoric agriculture, food gathering, plant and animal-based ritual, and feasting amongst the pre-Roman city-states of modern day Tuscany. Overall, this project explores how ancient peoples' daily lives were shaped by a complex intertwining with the natural world, from the practical daylong threshing of grains and processing of grapes for wine, to the cosmic divination of lightning storms and sheep's entrails—a narrative that prefaces the paradoxes of our own contemporary relationship to the environment.
Current research projects:
An Audience Study of Formal Variables in Digital Short-Form Environmental Media, grant from Center for Center for Communication, Culture, and Change (with Juliana Fernandez and Cameron Riopelle).
Virtual reality, augmented reality, interactive media, and site-specific animated projection at heritage sites. Heritage as social action. 
Developed nation privilege, guilt, and responsibility in Danish media (see ReFocus: The Work of Susanne Bier, Edinburgh University Press, 2018)
Archaeobotany of Pre-Roman Central Italy
Work in progress:
Shriver-Rice, M. and Vaughan, H. (Edited volume). Mediated Heritage: A Global Look at Historical and Archaeological Sites with Interactive Media Installations
Molloy, M. and Shriver-Rice, M. (Book) Environmental Activism, Power, and Celebrity
Shriver-Rice, M. (Article) "The ethics of illuminating the dead: site-specific media installations at the Etruscan tombs of Cerveteri." 
Graduate student advising:
2016- present Lisa Johns, PhD Candidate (advisor), Content, Culture, and Context: An Examination of Short-form Environmental Media  (scheduled to complete in Spring 2020)
2017 -present Shireen Rahimi, PhD Candidate (committee), An Evaluation of Ecological Impacts, Local Perspectives, Visual Landscapes Surrounding the Lionfish Invasion in Abaco, Bahamas  (scheduled to complete in Spring 2020) Website: https://www.shireenrahimi.com
2017-present Rachel Skubel, PhD Candidate (committee), Vulnerability of the South Florida Commercial Shark Fishery to Environmental Change: Social and Ecological Dimensions of Risk  (scheduled to complete in Spring 2021)  Website: https://sharkresearch.rsmas.miami.edu/meet-our-team-rachel-skubel/   Twitter: @rachelskubel 
2017-present Christine Pardo, PhD student (committee), Plant Invasions in Tropical Forests: A Case Study of Zingiber spectabile in Southern Costa Rica (scheduled to complete in 2021) Website: https://christinejpardo.wordpress.com/author/cjpardo27/ Twitter: @ecoxtine 
2018-present Mariam Abazeri, PhD student (advisor), Participatory Action Research Through Collaborative Media in Drought Adaptation (scheduled to complete in 2022) Website for film project:http://acf.biff.kr/eng/html/projects/documentary_view.asp?section=AND&column=&searchString=&this_year=2018&gotoPage=1&idx=369 
2017-2018 Savannah Geary, Master's of Arts Environment, Culture & Media (advisor), The Plastic Crisis Goes Public: Environmental Communication, Media Representation, and Public Perception of Plastic Pollution  (scheduled to complete in Spring 2019) Twitter: @savroge 
2018 Eryn Campbell, Master's Professional Science in Climate & Society (committee), Development of Climate Change Communication Materials for the National Capital Region of the National Park Service  (scheduled to complete Fall 2018) 
Courses taught:
ECS 609 Contemporary Representations of the Environment
ECS 610 Technology and Human Behavior
ECS 611 Nature, the Anthropocene, and Visual Anthropology
ECS 612 Environmental Communication, New Media & Policy
ECS 601 Environmental Research Methods
ECS 603 Environmental Interdisciplinary Methods
ECS 790 Directed Readings in Anthropology and Film
Societies and Memberships:
American Anthropological Association
Archaeological Institute of America
Anthropology & Environment Society
Society for Ethnobiology
Visual Anthropology Society
International Environmental Communication Association
Society for Cinema & Media Studies, Media & Environment Scholarly Interest Group (Chair)
Women in Aviation